2006 march 29th total solar eclipse in Sallum.
---
We have been thinking about this project for a long time through Uranoscope, our astronomy club : witness the 2006 march 29th solar eclipse. The project riped and a group of 20 members is waiting to board to Cairo from Charles de Gaulle airport on march 26th. We just met another small group from La Ferme aux Etoiles and our guide.
A travel agency arranged us a nice one week trip in Egypt to Alexandria, Marsa Matrouh and Sallum where we'll observe the eclipse, and then a quick desert trek in Siwa oasis.
We won't be alone in Sallum city located on the totality path and few kilometers far from the libyan border. A beduin like eclipse camp containing a least 5000 persons has been build on the top of the mountain overlooking Sallum Town. Most of the eclipses chasers came from the whole world. Everyone gets a pass and our busses are carefully checked before entering the camp. Egyptian autorities fear a bom attack.
Confort is quite rough and the night quite cold under the tent in this early spring.
When we wake up, on the eclipse day, a thick fog covers the place. Hard to find the observing area we delimited yesterday evening close to the japanese delegation.
At last, the sun warms and the fog vanishes. We set our telescopes and cameras. So does the japanese group.
The sky is bright, not a slicest cloud. President Moubarak, Prince Charles and Camilla Parker Bowles arrive by helicopter. They will observe the eclipse from a special tent hundreds yards away.
While waiting for the first contact expected at 11.21 AM we have a walk among the crowd and we meet some « old » eclipse chasers friends.
The celestial machine is working well. The show begins exactly on time. This eclipse is supposed to reward us with a 4m07s totality and we are not deceived. I can tell that I saw the most beautiful corona ever observed. Absolutely  fabulous coronal jets and flares. Well, an unforgettable eclipse and of course the unavoidable wish to see the next one.
<![if !vml]>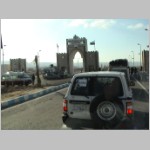 <![endif]>  <![if !vml]>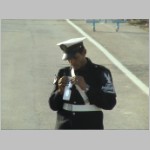 <![endif]>  <![if !vml]>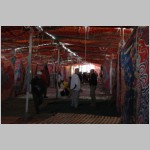 <![endif]>  <![if !vml]>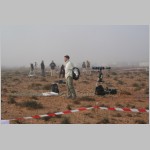 <![endif]>  <![if !vml]>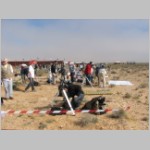 <![endif]>  <![if !vml]>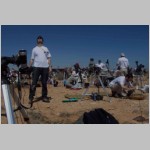 <![endif]>  
 <![if !vml]>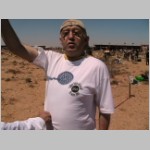 <![endif]>  <![if !vml]>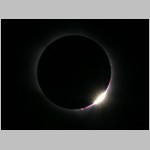 <![endif]>  <![if !vml]>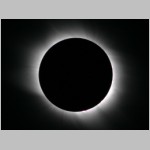 <![endif]>  <![if !vml]>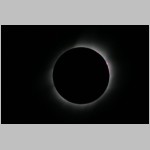 <![endif]>  <![if !vml]>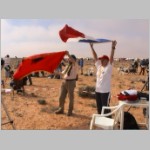 <![endif]>  <![if !vml]>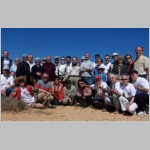 <![endif]>
Pictures were done with a canon "rebel" 350D used with "Bracketing" mode with 2x magnifier at focus behind a 60mm "Pronto" scope (F/D 12).
Images were captured in "Raw" mode to allow digital retreatment (As a matter of precaution concerning dust contamination, we made "flat field" to avoid hazard).
---
©

Jean-Paul GODARD & Martine TLOUZEAU